MEET THE HICKOX FAMLIY, OWNERS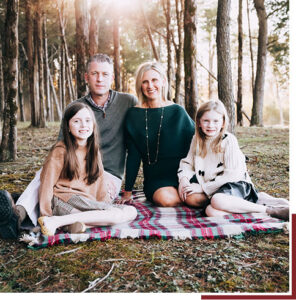 The son of a career naval officer completing his service in Washington D.C., Jon Hickox moved to Fairfax County, Virginia as a young boy in 1982.  He always preferred to spend time outdoors hunting, fishing, camping and scouring the woods & fields for Civil War relics and Native American artifacts. Many summers and weekends were spent on a friend's family cattle farm right here in Aldie (right across Route 50 from this very farm.)  Through working on the farm and spending time outdoors, Jon developed a deep spiritual bond with the land and the people who lived and worked there. He was also deeply affected by witnessing firsthand the slow destruction of farmland associated with the rural crescent that encircles the DC metropolitan area. Through these combined experiences Jon has gained an appreciation and respect for the land, history, and people associated with this passing of "Olde Virginia."
In 1993 Jon graduated from Robinson High School and then attended George Mason University to study business, math, and history. While attending college, Jon worked as a project estimator for a remodeling firm where he would learn more about home construction, architecture, and the hard knocks of business.
Dean arrived on the Virginia wine scene over seventeen years ago when he changed careers and founded Castle Gruen Vineyards and Winery which he owns and operates to date with his beloved wife, Jeanne. He has a true appreciation of all things wine and has worked in every dimension of the Virginia wine industry including 4 years as a board member with the Virginia Wineries Association and independent vineyard/winery consulting services.
He worked for Prince Michel Winery in central Virginia starting as the Vineyard/Winery mechanic for three years then quickly rose to the role of General Manager at Prince Michel before transitioning to The Winery at Bull Run & Old Farm Winery at Hartland. At Old Farm he oversees operations as well as consulting on Rock Mill vineyard operations. Dean is also our winemaker responsible for our Gold Medal Winning Peach wine.
Wendy joined the Old Farm team in December 2022 and has 40 years of experience building highly capable teams in the hospitality industry. After earning her degree in Hotel & Restaurant Management, she began her career in New York City & Washington, DC at the Plaza Hotel, The Metropolitan Museum of Art, Lincoln Center and the Kennedy Center. During those years, she developed knowledge about fine wines and creating exceptional customer experiences. Her 27 years with Starbucks Coffee Co. enabled her to develop strong operational skills, enhance my abilities to provide effective training programs, build successful teams and deliver on financial goals.
She approaches her work with an entrepreneurial spirit and agility, that capitalizes on great ideas from her team. Wendy's favorite Old Farm wine is the Merlot.
Sarah joined the Old Farm team in 2021 and consults with clients looking to host weddings, corporate, and social events at the winery. Sarah's years of event sales experience and planning weddings to large scale corporate functions helps her to effectively lead our events & sales team.
Her favorite part of the job is the personal relationship she creates with her clients and meeting new people. Listening to her clients' needs paired with her leadership and excellent customer service skills enable her to think outside the box to help achieve her clients' goals. Sarah's favorite Old Farm wine is the Viognier.
Kendall joined the Old Farm team in December 2022 and has been working in the wine industry ever since graduating from William & Mary in 2017 with a degree in Kinesiology & Health Sciences. He previously held the role of Cellarmaster at Stone Tower Winery in Leesburg, VA.
"Everything in my life has shaped me to be a winemaker and it is the perfect job for me."
Kendell's favorite Old Farm wine is the Viognier
Wayne joined the Old Farm team in 2020. Wayne is responsible for overseeing the grounds and landscaping, and recently planted 5 acres collectively of Vidal Blanc, Petit Manseng and Alberino at Old Farm in April of 2021. Wayne expects full production of these varietals in 2023. In addition to management of the grounds at Old Farm Winery, Wayne oversees vineyard operations for Rock Mill Vineyards, established in 2014 which now includes a total of 63 acres and 11 varietals spread throughout northern and central Virginia regions.
His previous experience include 40+ years in the nursery business and is an owner of a Wholesale Nursery on his farm in Fauquier County as well as a consultant in the landscape, vineyard, and green roof industries. Wayne is a member of the following professional organizations: Virginia Vineyards Association, Northern Virginia Nursery and Landscape Association, and the Virginia Nurseryman's Association. Wayne's favorite Old Farm Wine is the Cabernet Franc.